2011, St Helier, Jersey



Little Shining Man


Carbon fibre, 3D-printed joint system, Cuben fibre, 3 x 4.5 x 3 m
Commissioned by Philip Hewat Jaboor for Dandara, Jersey, 2011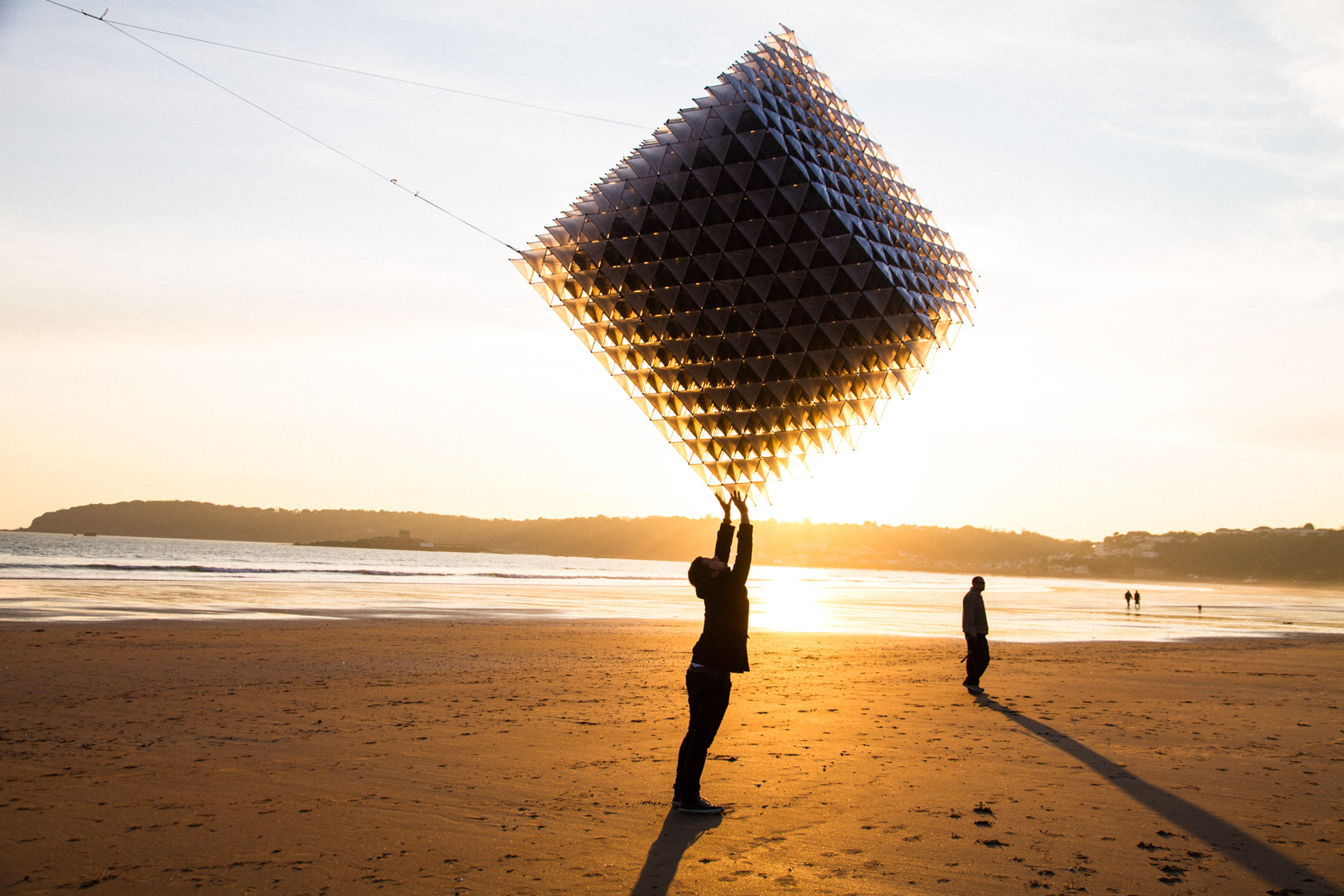 Little Shining Man is a complex experimental sculpture with the potential for flight. It is in fact one section of a larger piece called Three Cubes Colliding. The starting point for this work was the original concept of inventor Alexander Graham Bell's tetrahedral kite, which he developed between 1895 and 1910 during the great race towards manned flight. Its design was based on the formation of the mineral pyrite, otherwise known as fool's gold. The Morisons multiplied this cuboid shape to create a structure resembling the three colliding cubes of its name. These beautiful, near-identical forms appear to be simultaneously weightless and sculptural bodies with mass.

The artists worked again with architect and champion kite-flyer Sash Scott to develop the design, which was then engineered and produced by Queen & Crawford fabricators. One of the challenges of the construction was that the work had to be light enough to fly but durable enough to land without damage.


After a sixteen-month period of planning and development, the team arrived at a suitable design using the strongest, lightest materials available to form a scalable system of modular components. Employing 3D modelling software and a 3D printer, they replicated a double-wing module many times over and arranged these into a tight cellular structural arrangement that appears as a heavy, unflyable mass. Hand assembled from more than 23,000 individual parts, the work was made from a dense mesh of carbon-fibre rods, Cuben fibre (an ultralight polyethylene and polyester fabric), and a specially designed joint system of 3D-printed connectors. The result is an ungainly looking cube that reveals its true majesty only when floating in the sky or lit up as part of its display as sculpture.

Three Cubes Colliding was commissioned for the Castle Quay mixed-use scheme on the waterfront in St Helier, Jersey. For 364 days of the year, the three sections of the complete work hang in an atrium within the development. Once a year, however, Little Shining Man is taken down from the rest of the work, transported to the beach of St Aubin's Bay, and set aloft on the winds coming across the sands. This marvel of lightweight architecture appears to defy the laws of gravity as it levitates effortlessly in the air, with no visible engine or energy source powering its flight.


Photographers' credits


All images_ Ivan Morison