2006, Bristol, UK



I Lost Her Near Fantasy Island. Life Has Not Been The Same


Cut flowers, articulated lorry, wagons, buckets, and CD of Tina Turner's 'Private Dancer'

Original installation, Centre Promenade, Bristol, 14 July 2006
Commissioned by Situations for the opening of British Art Show 6

Restaged for The Night at the Museum by Moscow Department of Culture, Gorky Park, Moscow, 18 May 2014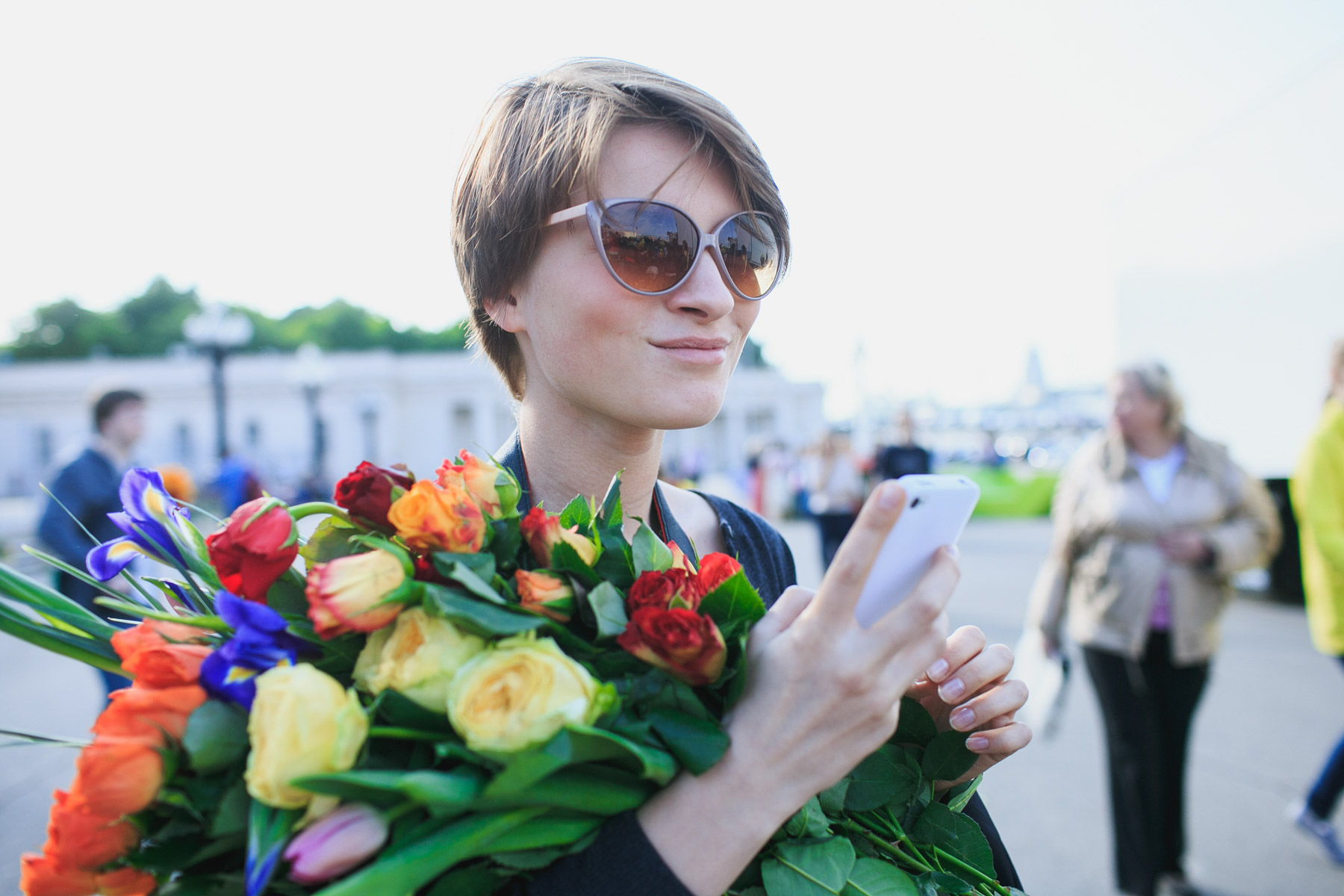 The artists worked with a Birmingham flower wholesaler to buy twenty-five thousand flowers at a Rotterdam auction the day before the installation, and transported them overnight to the centre of Bristol. Installed inside a new articulated white lorry, the body of which was jack-knifed, tyres deflated, and back doors flung open, spilling its contents across the pavement, with the sound of Tina Turner's song 'Private Dancer' playing, the work appeared without apparent explanation or publicity.
A postcard bearing just three lines of text mailed out a few days prior to the installation gave a possible narrative link with the crash. Its enigmatic message declared only: 'African Grey Parrot, grey with red tail feathers. I lost her near Fantasy Island. Life has not been the same.'

Apparently unsupervised through the day, the flowers began to be taken by the gathered crowd around six o'clock in an intense moment of grabbing as passers-by grappled with the idea that they could take away as many or as few as they wished. That evening, hundreds of people carried armfuls of flowers as they walked around the city, took the bus, rode their bicycles, and finally arrived home to fill vases and tell the story of the mysterious lorry that had shed its load.




Following the event, Situations commissioned artist Olivia Hicks and Dan Hicks, professor of contemporary archeology at Oxford University, to write about the work: 'Appearing overnight, the Morisons' installation had a dreamlike quality. There was not a scratch on the white paintwork. The lorry seemed to have glided to a stop. The split­ seconds of a traffic accident were still present in its material consequences: the long refrigerated trunk of the articulated lorry discharging 25,000 bunched flowers across the street. The cut flowers were in transit, ephemeral, crossing continents, but the courses of their short lives were now shifted. Their hopeful journeys – to the oasis of some amateur flower arranger, a polite vase, a jacket lapel, an improvised pint glass, behind an ear or presented to an attractive stranger on impulse ­were cut short. Something had gone wrong, and new, unexpected, open-­ended chains of events unravelled, temporarily revealing the silent, unceasing choreographies of the containers and cargos that surround us.… [The] artwork was uplifting and spirited. Its environmentalism was delicate: escapist and yet hopeful. Hooked on the amateur, the naive, the enchanted. Looking for big ideas in everyday surprises. We know the feeling.'




'I received a postcard, an anonymous message. Three lines of text. Hinting at a narrative, giving a glimpse into the personal history of a real or imagined character. The ambiguity of the text and the anonymity of its author is a central thread to
the work of Heather and Ivan Morison. They give the viewer segments of narrative and whispers of encounters inspired
by their personal recollections and continual research.

Beside the harbour and amid a steady stream of pedestrians, an articulated lorry formed the backdrop to
the beginning of the day. Parked up on the pavement, the pedestrian zone, the object became a display piece. Jack-­knifed and white, its back doors wide open and its contents spilled: a cascade of cut flowers falling from metal containers. The range of colour, fauna, flora, produced a layered display arresting attention. The flowers seemed more like a giant arrangement than an accidental mess, less the product of
a violent collision, as the angle of the lorry would seem to suggest, and much more a conscious and considered form.

The installation was separated from the text, the connection made only by those who knew the Morisons' work and realized the source of the anonymous postcard.
The disjointed anonymity of authorship of both postcard
and lorry, and the invisible connection between each, begs questions as to the intention of the work and its subsequent reception. In the city centre, with flowers spilling, the lorry
is an intervention in the space, an item of display. Received
in the post, opened over breakfast, the text hovers over the beginning of the day, to be considered, held on to, or put straight into the recycling without a moment's thought.'

Laura Mansfield, independent curator


Photographers' credits


Bristol images_ Wig Worlnad / Moscow images_Dmitry Chuntul