2007, Gwynedd, UK / Venice, Italy



Fantasy Island / Pleasure Island


Timber and glass, approximately 6 x 6 x 12 m

Commissioned by Hannah Firth for Wales at the Venice Biennale,and built at the Ex-Birreria on the Giudecca, Venice, and Coed Gwynant, Wales

Recommissioned by Gavin Wade at Eastside Projects, Birmingham, 2008–14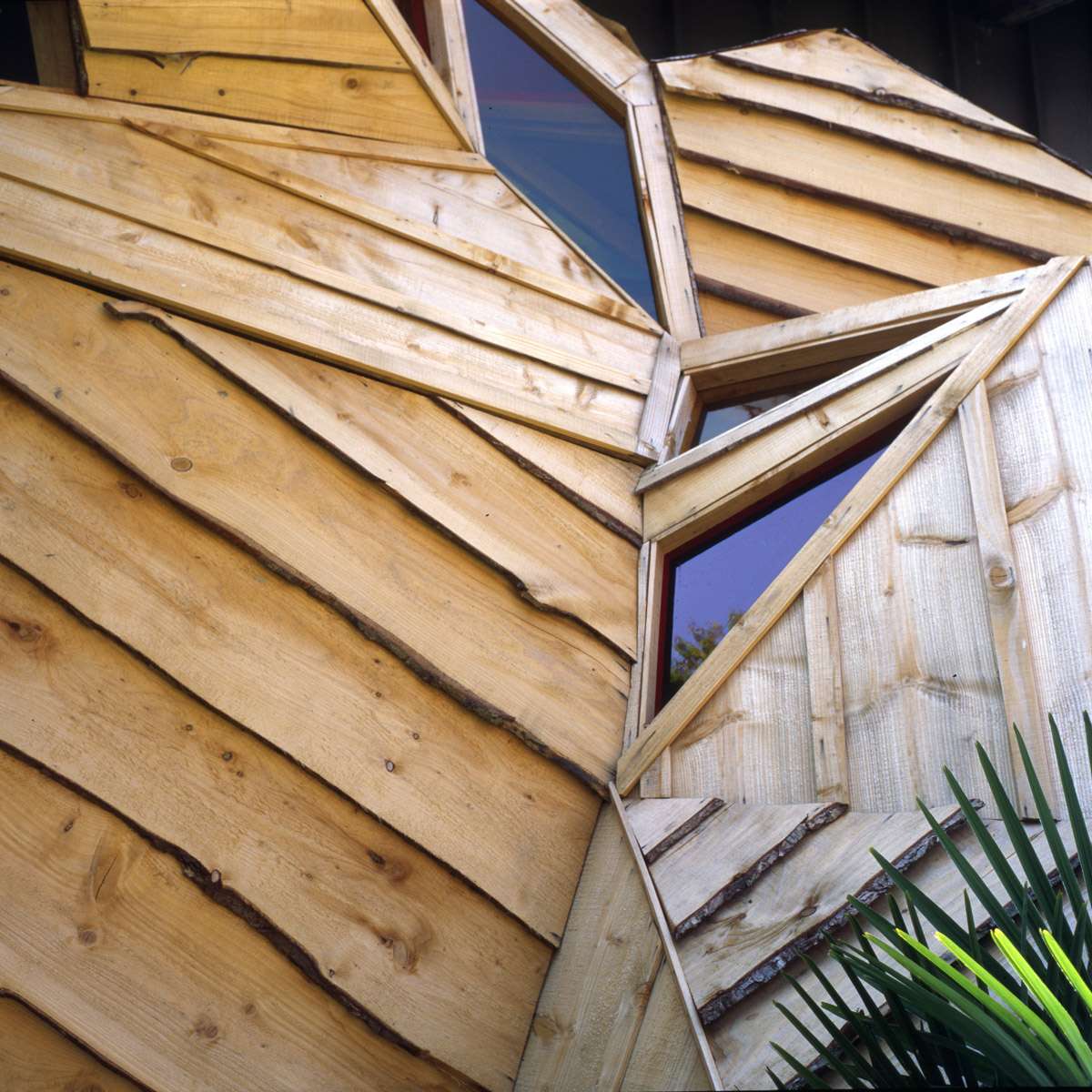 Fantasy Island and Pleasure Island were a pair of twin sculptures made from the timber of Douglas firs, grand fir, and western hemlock that had been blown down in early 2007 in Coed Gwynant, an area of forest near the Morisons' home in Gwynedd, north Wales, which they had acquired to develop into an arboretum. While Fantasy Island was built in Coed Gwynant, Pleasure Island was constructed in Venice for the Welsh pavilion of that year's Biennale. The sculptures were identical in form and took inspiration from a piece of pyrite that the artists had bought at a mineral show at Quartzsite, Arizona.

Commissioner of the Welsh pavilion, Hannah Firth wrote in the catalogue accompanying the Venice presentation: 'Continuing their examination of crystalline forms, and also the artists' interest in the alien, the sculptures appear to spread like cankers or growths that are both beautiful and yet repellent. Echoing the geodesic forms designed by Buckminster Fuller in the 1940s and popularized as shelters in the 1970s, they rise up from a broad base to a kaleidoscope of colourful glass through which shafts of daylight are cast like the beam of a spaceship, illuminating the interior spaces. So the pieces have a complicated relationship with the viewer in their refusal to be pinned down: ugly yet beautiful; organic yet man-made; utopian yet dystopian; dangerous yet a potential place of safety. The work of Heather and Ivan Morison engages with and responds to their surroundings. They survey, record and collect to rebuild and re-present the often familiar, investing their observations and discoveries with vigorous fascination. In 2005, they acquired a wood in north Wales and they are now developing the area of mature conifers into an arboretum – a collection of trees that will be gathered from around the world. As old trees are cleared to make way for new species, they are cut into timber that is used to realize new projects, including much of their exhibition in Venice.'

In 2008, Pleasure Island was adapted for the artist-run Eastside Projects in Birmingham as a long-term commitment to exploring the nature of artworks within that space. New features of the structure included a kitchen, desks, shelving, a larger entrance, and a temporary cage for a mynah bird. The artists presented a series of dystopian puppet shows in the work during its five-year duration using their own handmade puppets in collaboration with master puppeteer Owen Jones. The ruins of Fantasy Island are still visible at Coed Gwynant.


Gavin Wade: I think you might have said earlier about the limits of the garden and whether you were trying to expand the limits, trying to show more of life.

Ivan Morison: There's many reasons, I think, for getting the wood and starting the arboretum. One of the things we are doing is trying to build up a mythology, but it's like a semi-fictional narrative slowly unfolding about ourselves. So the story's gradually unfolding about our lives, I guess, that's what our work is. And some of those bits are true and some are a little bit made up. The arboretum existed within our work for many years before we actually went ahead and started it, because we've talked about it a lot, about the idea of an arboretum. And that's one of those things that's actually now turning to reality. And yes it's about expanding the potential of the garden. The garden's great, it's working for us, but with gardening, you're stuck in the garden all the time, all year, it constrains you. What we wanted was a long-term project for the rest of our lives, but which then also makes us go and do other things which gives us reasons to go to places, a list of things we have to do, an itinerary for our life, we have to go and collect the trees from here and there, we have to go everywhere to get the arboretum, to complete the arboretum.

GW: Is that because of doing the tour across China and making the 'Chinese Arboretum' series, did that make you want to do that in real life?

IM: Well it did. We actually visited an arboretum in Finland and met with a guy whose grandfather had set up an arboretum, and his father was running it and then his son had taken it over, and he walked us around. And it was a combination of him and a Finnish lady that we met as well. Her garden was a collection of plants she had collected from around the world, and the plants had special significance to her family or just journeys she'd made. Wherever she went she collected plants, and she could walk around the garden and tell us about her life. And this arboretum was this guy, you know, it was almost the same, but he could tell us about his grandfather's life through, say, a patch of Siberian larches. An amazing monument to their lives.
And that's really where we started to realise that it might have more potential for us in the long-term because we felt that the garden was constraining us. And we went to work abroad for a year and during that time we couldn't work on the garden.

GW: Is there a relationship to how you might form the arboretum here in terms of how you locate the knowledge, how you choose which plant or trees or which people or which projects?

IM: Exactly. Well we're still working through how that process is going to work really because obviously you could be quite scientific about it and have like a list of trees to tick off, for example the next one on the list is in South America, so we have to go there and collect it. Or it can be a little bit more like that 'Chinese Arboretum', a little bit more natural and just people recommending us to go and find trees in this place and that place, a little bit more intuitively led, I don't know.

Heather & Ivan Morison interviewed by Gavin Wade, 'You should plant your bulbs in autumn when the wind is...', Axis, 2006


Photographers' credits


All images_ Ivan Morison