2011, London, UK



Black Pig Lodge


Coal, 3.5 x 4 x 8.5 m

Commissioned by Southbank Centre, London

Supported by Walter Energy, Western Coal, and the Aberpergwm Colliery, Wales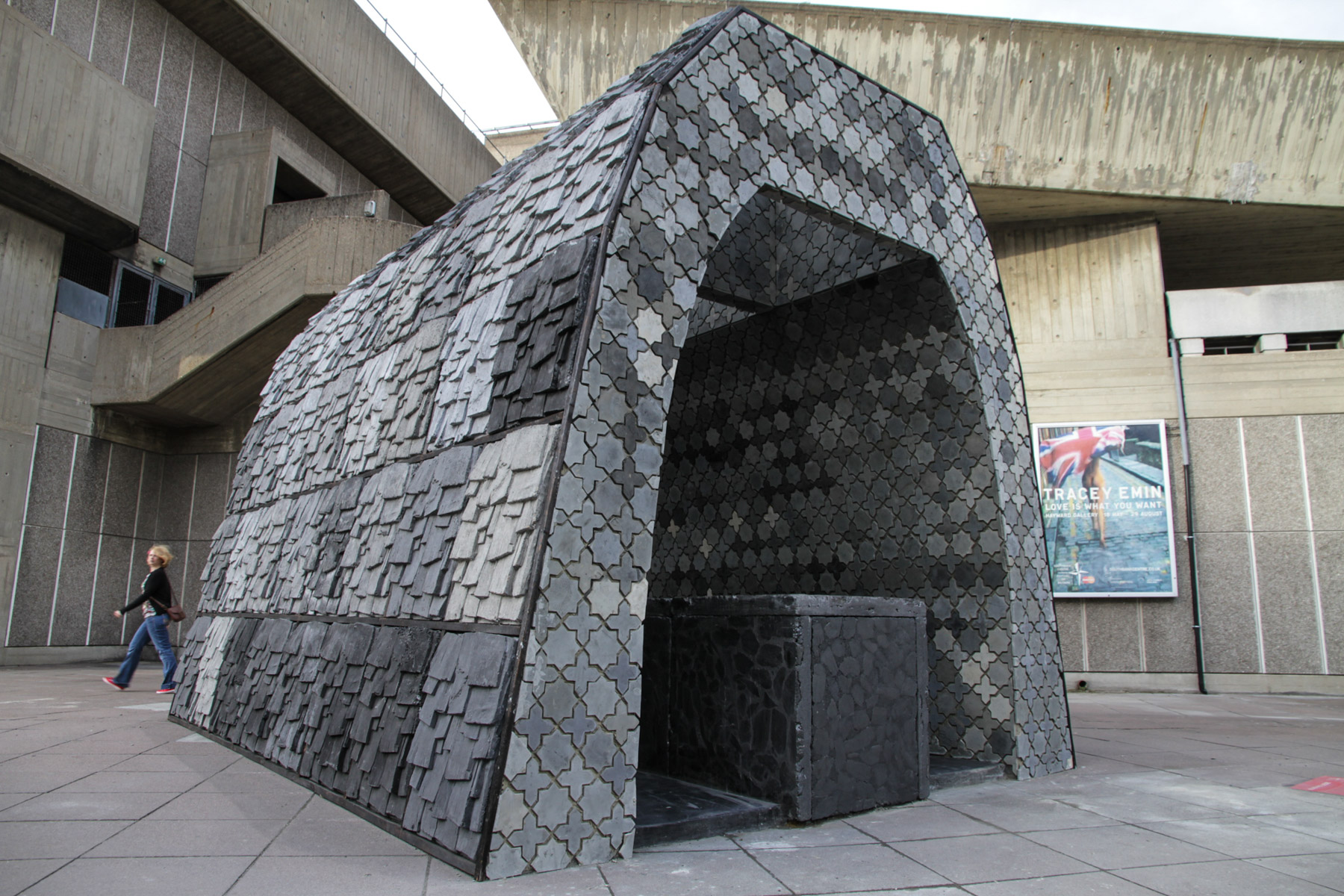 Black Pig Lodge was a small free-standing pavilion constructed from an ancient material that has stood the test of time, at least until now: coal. The work was conceived for the sixtieth anniversary of the 1951 Festival of Britain, organized by the Southbank Centre in London. It invited visitors to shelter within a glistening chamber of polished coal sourced from the last working mine in the Neath Valley, Wales. In the course of producing the work, the Morisons met miners and former miners who had lived through the transition of coal-mining from being a celebrated industry that once made Britain proud to becoming an unwanted reminder of the past and a symbol of social decline in rural communities.

In 1951, the Festival of Britain had shown what design and architecture could do for cities devastated during the Second World War and had presented an optimistic vision for the future; in the twenty-first century, our buildings need to be designed to survive an uncertain future, one threatened not by international warfare but by the dangers of climate change. In keeping with the Morisons' interest in post-apocalyptic scenarios, and how one might survive the 'coming bad years', the work on the South Bank aimed to create a form that could provoke such a sense of survival in the future with a material from the past.

The outside of the chamber resembled a bunker-like structure based on the vernacular style of the Sami turf lodge from northern Scandinavia, appearing hand built and seemingly abandoned. The steel and wood of the exterior was covered by rough plates cast from coal – a laborious process – that look similar to charred wooden shingles. Open on both ends, the entrances and the interior were covered with more decorative tiles that were also cast from coal dust, but, unlike the outside shell, here they are smooth, manufactured, and gleaming. The subtly tapering walls led up to a series of skylights that drew light down the reflective surfaces made out of polished coal.

The inside appeared to be a space for ceremony and living, from a non-specific place. Neutral and blunt, it was purposely ambiguous of its cultural context or use. It contained a linear form fashioned from pieces of cut coal that was non­­descript in its function or purpose: was it a table, a bar, a bench, an altar, or a sarcophagus? Drawing on the dark mythology of the cult of the television series Twin Peaks and global and English folklore, Black Pig Lodge presents a relic from an imagined future.



Photographers' credits


All images_ Ivan Morison